Maintenance of Clay Courts by Volunteers is Fun and Rewarding!
Testimonials
"As the Director of Tennis at Interlachen Country Club, I oversee the maintenance of five clay tennis courts. I am confident that Minneapolis Community Clay Courts will be able to do a first rate job maintaining public clay courts with a group of dedicated volunteers."
Steve Paulsen, Director of Racquet Sports, Interlachen Country Club, Edina, MN
Volunteer Maintained Courts Around the Country
We are not the only ones to consider a public, volunteer maintained clay court. Take a look at some of the other places that have been doing this for decades in other parts of the country.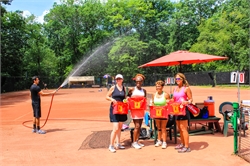 Founded in 2007, Frick Park, in Pittsburgh, PA is a six court clay complex that is open to the general public. It was rebuilt and is maintained by a volunteer-based 501C4 organization. Frick Park volunteers have been very helpful at providing us advice and support on all aspects of this project.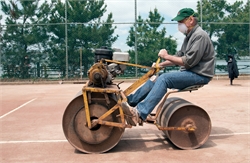 In the mid 1980s, the dirt tennis courts at 96th Street were in deplorable condition: sandy, gritty and weed-infested. The City was ready to resurface the courts with asphalt and turn them into hard courts. Upper West Side tennis players formed a new organization, the Riverside Clay Tennis Association (RCTA). RCTA volunteers spent thousands of hours replacing the old dirt with tons of new, red clay, transforming the courts into the magnificent public, red-clay facility that exists today. The lawns, gardens and landscaping in the area surrounding the courts are maintained by RCTA volunteers and staff.
Omaha Clay Courts Association, Omaha, NE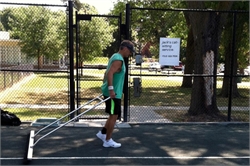 The Omaha Clay Courts Association was formed in 2002 by a group of tennis enthusiasts concerned about the continuation of tennis activities at Dewey Park and interested in the possibility of having clay courts at that site. The main purpose of the group was to form an agreement with the city of Omaha for the construction, ongoing operation and maintenance of such courts.
This is the list of maintenance tasks and the time estimates sent to us by Omaha Clay Courts Association, which has been doing this for close to 20 years.
1. Opening Courts (4 courts)
10-20 people (3-4 hours)
Lute off dead clay
Put up windscreens

12 people (3-4 hours)
Loading new clay into wheelbarrows and delivering it to spreaders
One person spreads, two people sweep the surface to get it level

16 people (4 hours?)
String the mason line

Nail in the lines every 2 feet.
Roll the courts
Put up the nets.

Roll twice a day for a week to get a consistent bounce.
2. Closing Courts

20 people (6 hours)
Take down the windscreens
Pull up the lines, remove the nails, and roll them up.
Drain and blow out water lines
Dismantle float valves and store them
Set the overflow drain pipes down to drain water off of courts


3. Daily Maintenance
(15-20 minutes a week)
Sweep and "do the lines" after play.
Change water in the Tennie-two-step
Empty recycling
Spraying the court edges for algae control
Blowing leaves and grass cuttings off the court
Filling in low spots after heavy rains