Project History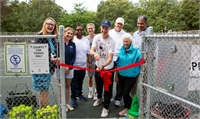 Saturday, October 9, 2021
Supporters and friends gathered on a beautiful Fall morning to officially open the first public clay courts in the Minneapolis Park system.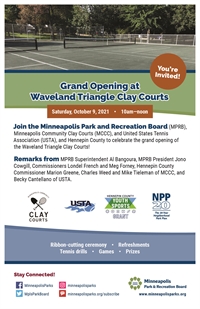 Friday, October 1, 2021
Who: Al Bangoura, Jono Cowgill, Londel French, Meg Forney, Marion Greene, Charles Weed, Mike Tieleman, Becky Contellano, and John Wheaton
What: The Grand Opening Ribbon Cutting Ceremony
Where: Waveland Triangle Park
When: Saturday, October 9, 2021 10am - noon.

Thursday, July 1, 2021
The Minneapolis Parks and Recreation Board officially announced the commencement of construction of clay courts at Waveland Triangle.
Waveland Triangle Scheduled Construction Timeline
Tuesday, June 22, 2021
| | |
| --- | --- |
| 7/12/21 | Demolition of Existing Court |
| 7/20/21 | Water Infrastructure |
| 8/2/21 | Court Construction Begins |
| 8/23/21 | Fencing Begins |
| 8/30/21 | Sidewalk Installation |
| 9/6/21 | Final Grading and Restoration |
| 9/13/21 | Final Court Preparation |
| 9/20/21 | Project Complete |