Waveland Triangle - Concept A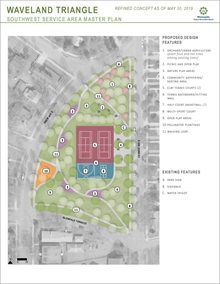 The Minneapolis Parks and Recreation Board (MPRB) is currently engaged in the process of creating a strategic plan for every park in the city. These strategic plans are called Master Plans, and they will guide policy for each of these parks for the next 20 years. While these plans are not set in stone, it will be much easier to lobby the MPRB to install a clay court in a park if the Master Plan for that park includes a tennis court(s).
Fortunately, the Master Plan concept for
Waveland Triangle Park in Linden Hills
(on the corner of Drew and Chowen Ave S -
see map
), includes not only a tennis court, but two clay tennis courts. This is very exciting! They are giving serious consideration to building public clay courts, but
the MPRB needs us to demonstrate support for the proposal.
The Master Plan process has now moved into the phase where Community Advisory Committees (CAC) are meeting to discuss these Master Plans and make recommendations to the Park Board. The CAC meetings are open to the public. There are two things you can do to help make sure that clay courts are considered in these deliberations.
1.
Fill out the survey
- the Park Board staff read online comments out loud at the CAC meeting. Let them know what you think!
2. Attend a CAC meeting. The next meeting on Tuesday, June 25, 2019 at Fuller Park Recreation Center (see map)
Let's get involved!