Waveland Triangle Master Plan Update - Still not Done
Thursday, July 25, 2019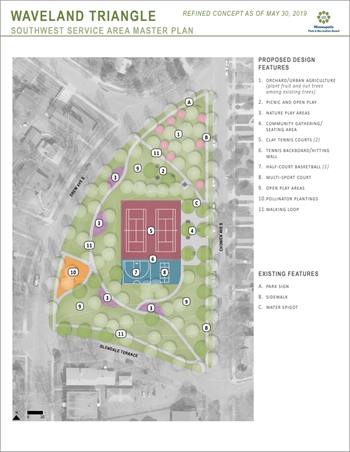 The Minneapolis Park Board is in the final stages of the master plan process. At this stage, they have single concepts for every park, and are going back to the community for input and placing the plans in one of the following categories:
Has Consensus Towards Recommendation
Has Consensus Toward Recommendation Following Area Balance Discussion
Warrants Further Discussion
We were hoping that they would put Waveland Triangle into category 1, but there was enough discussion about the Sport Court that they have planned on the outside of the clay courts that the park board staff felt like it warranted further discussion. There seemed to be no opposition to the clay court, except an inquiry about whether it was possible to play Pickleball on a clay court.
Here is what you can do to help:

1. Fill out the online survey. To do that, click here. This is very important. They read the comments that are submitted online out loud at the meeting!
2. Attend the next CAC meeting. It will be held on August 8th at Lynnhurst Recreation Center on 50th and Minnehaha Parkway . The meeting starts at 6pm. For directions, click here.